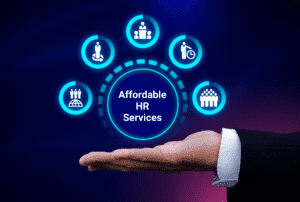 Introduction
In the fast-paced world of startups, efficient resource management is a critical success factor. Human resource management is one key area that frequently presents a barrier. Startups confront budget limits when it comes to employing HR specialists or outsourcing HR services as they attempt to establish and scale their businesses. In this blog, we will look at the challenges that startups have when looking for economical HR service providers and offer HRTailor's HR outsourcing services as a game-changing option.
The Challenge of Budget Restriction:
Every rupee matters for startups, and spending a significant percentage of their limited budget to recruit in-house HR specialists may be a frightening decision. While HR responsibilities are critical for cultivating a great work culture, managing employee relations, and supporting development, the expense of hiring full-time HR professionals can be prohibitively expensive. Furthermore, businesses frequently want customized HR solutions that suit to their specific requirements, making it challenging to find economical and flexible choices.
Navigating the HR Service Provider Landscape:
Outsourcing HR services is a more appealing option than recruiting in-house personnel. Finding the correct service provider that fits the budget and satisfies certain specifications, on the other hand, might be like looking for a needle in a haystack. During this quest,
Startups may face many challenges:
Cost vs. Quality: It is critical to strike a balance between price and service quality. Some companies may offer appealingly low pricing but make sacrifices in terms of competence and service.
Scalability: HR services for startups must be scalable. Many suppliers give a one-size-fits-all solution that may not meet the increasing demands of the startup.
Lack of Customization: Startups require HR solutions that are suited to their specific organizational structure and culture. Generic packages could not address these individual requirements.
Hidden Costs: Some service providers may present appealing pricing packages initially, but additional costs might arise once the engagement begins, causing unwelcome financial surprises.
The road may be tough and time-consuming for businesses dealing with financial restrictions when looking for economical HR service providers. However, with the introduction of HRTailor's HR outsourcing services, these barriers are being transformed into possibilities. HRTailor enables entrepreneurs to focus on their main business while ensuring HR processes operate smoothly by providing cost-effective, flexible, and customised solutions. As companies continue to prosper, working with HRTailor might be the secret ingredient they require to achieve long-term growth and succes.